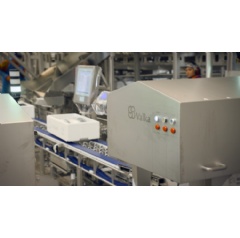 The fully customisable salmon processing solutions from Valka provide adaptability, traceability, and full control of product quality with a 360-degree view of production and real-time monitoring. Salmon processors are continually seeking out ways to improve production while simultaneously meeting customer demands and the Valka salmon processing solutions are customised to individual needs.
"Salmon processors can rely on our expertise and innovations to help improve their end product," says Kristján Kristjánsson, general manager of Valka Norway. From beginning to end, the salmon processing solutions from Valka offer more profitable production with superior quality, minimised labour, and elevated product value. "We are proud to stand by our clients from development to installation and offer custom-built salmon processing solutions."
With a daily capacity up to 200 tons per shift with only 8-10 employees, the advanced monitoring of the Valka Grading and Packing System provides actionable insight critical to the production process while reducing the workforce. The Valka packing system: handles and delivers empty boxes to the grader; transports and tracks all filled boxes; automatically assigns and applies a box label with the proper order information; distributes ice according to the box items; closes and delivers the box to the correct pallet. All information of the fish, packing and transportation units are stored in the system, with full end-to-end traceability. To learn more about the salmon processing solutions from Valka, visit their website at https://valka.is/salmonproducts/
About Valka
At Valka, we are passionate about improving fish processing. We aim to enhance the fish production process so that our clients can produce better quality products and be more profitable. We do that by designing and building innovative, efficient equipment and systems that create added value. Our systems process with more accuracy, minimise waste and increase the raw material yield into higher-value products. We build automated and intelligent systems that assist the producer in optimising his production. We work with our customers to develop a solution that meets their specific needs and expectations.