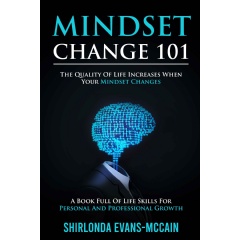 Personal growth is a lifelong undertaking of understanding and developing oneself to achieve one's ultimate. Personal development is an essential part of a person's growth, maturity, success, and happiness. It is also the foundation of emotional, physical, mental, and spiritual health. "Mindset Change 101" by Shirlonda Evans-McCain will help you discover ways in breaking some bad habits that don't contribute growth.
The book focuses on the possibilities of achieving great success both for career and personal life. This was written to help individuals of all ages in shaping the right mindset and attitude towards a certain goal.
The kind of thoughts you have about yourself and your thoughts about what you want to accomplish with your life all work together to form a way of living that governs your life and the choices that you make. McCain emphasizes that whatever is in your mind determines the quality of your life.
Your personal growth and the quality of thoughts has a profound effect on every single aspect of our life. As we grow on a personal level, we begin to feel more passionate about life in general. We are naturally more motivated because learning and growing add motivation and a sense of excitement.
Break your bad habits and find the answers to how personal growth and positive thoughts affect our reality by grabbing Shirlonda Evans-McCain's "Mindset Change 101."

"Mindset Change 101″
Author: Shirlonda Evans-McCain
Publisher: Your Online Publicist
Publication Date: July 2020
Sold by: https://shirlondamccain.com/
Language: English
Hardcover: $26.99
Paperback: $16.99
eBook: $5.50


About The Book
Empowering people to believe in themselves and in their natural ability to succeed, is the life work of Shirlonda Evans-McCain. Mrs. Evans-McCain is a Certified Professional Life Coach and Grief Recovery Method Specialist, who holds a bachelor's degree in social work from Augusta University. Over the course of her career, Mrs. Evans-McCain has taught life skills to thousands of youth. Building upon her success with youth, she began partnerships with her local government agencies to deliver educational life skill workshops to young adults, adults, and parents. Mrs. Evans-McCain has formed her expertise from the lessons of her personal experiences, raising a family, pursuing an education, and setting an example for others, to create "Mindset Change 101."