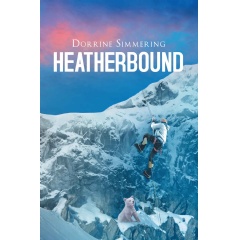 Presenting an exemplary Science Fiction Book by Dorrine Simmering. A group of dissidents has become disenchanted with the politics of Earth and wish to leave the planet and return to a simpler time. Their goal is to live peacefully and enjoy a less restricted life. After a long search, they find an uninhabited planet that they believe will meet all their requirements. They soon discover that the paradise they found, HeatherBound, has no natural resources. All supplies such as wood, steel, and oil are not available on Heatherbound and must be shipped from Earth. A marketable product would have to be found for trade or they would be enslaved by Earth through debt.
This Science Fiction book will seize your heart and your mind as Dorrine Simmering takes you to the journey of resentment, avarice, and seeking harmony.
This book is relevant to our time because earth soil is at risk in most countries around the globe due to erosion, urbanization, and overpopulation. The author captures the human qualities of loyalty, human kindness, compassion, and love as well as the frailties, greed, jealousy, and love of power.
A tale of family and love this book illuminates the rich diversity of the Dorrine Simmering's wide imagination. "HeatherBound" will take off just like her three other books since every detail is a page-turner and a cliff-hanger.

"HeatherBound"
Author: Dorrine Simmering
Print Length: 327 pages
Publisher: Westwood Books Publishing LLC; 1 edition (September 26, 2018)
Publication Date: September 26, 2018
Sold by: Amazon.com Services LLC
Language: English
ASIN: B07HPG7XSQ
Kindle: $3.99
Paperback: $9.95

About the Book
Kendall McCreight, the colonies biologist, partners with an alien race to seek a plant or product that Earth would find valuable enough for trade purposes. Through political intrigue, sibling rivalry, and jealousy, tensions rise to create conflicts between Heatherbound and Earth. It is also a story of love and loyalty and overcoming hardships.