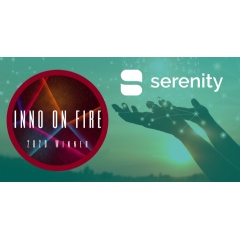 Serenity App, Inc., maker of Serenity Engage, a collaborative communication platform for senior care, today announced they are the recipient of the Top 50 Inno On Fire Awards.

In an industry under fire, Serenity Engage offers a lifeline by creating streamlined conversations that build trusted care partnerships, and makes it quick and easy for staff to share information about individual residents, giving them more time to provide care. Families also have easy access to the community's announcements, menus and activities.

"Our team is dedicated to helping families of those living in residential care breathe easier by giving them a lifeline to know what's happening with their loved one," shares Katherine Wells, founder and CEO of Serenity App, Inc. "To receive an award for which our customers nominated us is truly humbling."

When only half of all family members feel they get enough information about their loved one during COVID-19 visitation restrictions, she believes that's a failing grade. "The worst part is that people in this industry give their heart and soul to provide extraordinary care," Ms. Wells says. "It's not the people that are causing this breakdown, it's the systems."

"In the hospice industry, we have to build trust with the family members quickly," shares Jenna Girton, CEO of Dignity Hospice. "With Serenity Engage, our team is now able to quickly and easily keep families updated, share photos, ask and answer questions, and truly accelerate our ability to provide extraordinary care. We've saved over $53,000 in productivity increases alone with Serenity Engage, enabling us to spend more time caring for those we serve."

"Transparency is often talked about in senior care, and rarely practiced," says Francis LeGasse Jr., CEO of Assured Assisted Living, Sevens Residential Memory Care, and Sevens Home Care. "The industry has evolved to be so highly regulated and controlled on the inside that families are often left out in the cold. For the ten years I've been in this business, we have dedicated ourselves to creating transparency in communications, and Serenity Engage has allowed us to magnify that tenfold."
About Serenity Engage
Serenity Engage is a woman-owned software company that developed a HIPAA-compliant communication app to streamline conversations across senior care communities, health providers and families. The app replaces inefficient communications methods, like generic email, phone calls and voicemail with a single platform that supports messaging, photo sharing, and updates that only authorized caregivers and family members can access.
Founded by Katherine Wells, MBA|MA, Serenity Engage is headquartered in Denver, CO, the software-as-a-service application is currently available in North America (U.S. and Canada) and in Mexico, United Kingdom, and Australia.

For more information, visit www.serenityengage.com.
Facebook: https://www.facebook.com/SerenityEngage
LinkedIn: https://www.linkedin.com/company/serenityengage
Twitter: https://twitter.com/SerenityEngage
Instagram: https://www.instagram.com/serenityengage/