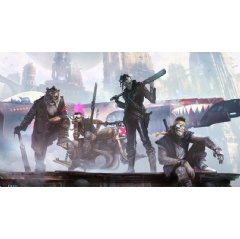 Hello BG&E fans and Space Monkeys – As we said recently, Beyond Good and Evil 2 is well underway and we are currently concentrating on core development and production milestones. With that in mind, we wanted to let you know about some changes to the team and give you an update on our next milestone.
Team changes: As he said via Instagram, Michel Ancel has decided to stop working in video games in order to focus on other personal projects, and will no longer be part of the BG&E2 team. For years, Michel imparted his creative vision and helped us remain faithful to BG&E's incredible universe. His uncompromising passion pushed us to redefine what was possible in crafting an expansive, multicultural, and futuristic science-fiction world. As we move forward, we are all committed to remaining true to this vision.
As Michel noted, he hasn't been directly involved in BG&E2 for some time now, as the team have been hard at work building on top of the solid creative foundation he helped shape. The team's collective strength has us well on our way to developing a flagship next-generation action-adventure game. We recently passed an important internal milestone, delivering a build that proves our Space Pirate Fantasy and offers hours of gameplay and an incredible level of freedom in a seamless online sandbox, building upon the promise of our tech demos shown at E3. I'm incredibly proud of the team's perseverance, dedication to each other and ongoing commitment to developing an amazing game.
We still have a lot more to do to, and we're ramping up the size of the team to help. We recently added Ubisoft Paris as a partner studio, and in the past six months many new people have joined us here in Ubisoft Montpellier. If you're interested in being part of the team, visit our careers site and search for keyword "Beyond Good & Evil 2."
Next milestone: We are aiming to share more and show you the game in action sometime next year, once we pass our next internal production milestones.
We know many of you are eager to hear more from the team, get more detail on the story and universe, and try out the gameplay. We're equally excited to share all of that with you, but we will take the time needed to get it right. We want to go beyond the high expectations you have of us, and that we have for ourselves.
Thank you for your patience, and remember we're always happy to have your feedback, whether through the Space Monkey program, by collaborating and contributing with other fans via our HitRecord partnership, or by chatting with us in the forums.
tinyurl
is.gd
clck.ru
ulvis.net
shrtco.de