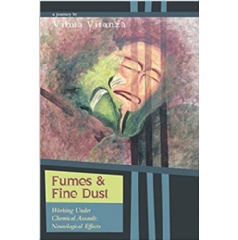 In a sense, this book wrote itself. Excerpts from journals written over nineteen years of workplace exposure to chemicals depict the images and struggles within a gradually deteriorating brain that had once been completely functional. The author's strong, healthy body was breaking down as well. However, through her journey Ms. Vitanza learned what the brain can do to heal itself. Much of what she practiced was of benefit to her until at last her mind found peace. Her personal account of events and feelings is supplemented by medical records, and by illustrations taken from drawings and paintings that she made when experiencing particular symptoms.

Tuesday, September 2nd, 1986 an entry from her book: "My doctors have indicated that the brain has great plasticity and that, with time, uninjured parts of my own will probably take over the functions of the disabled ones." Following her intuition, she decided to take courses on subjects she likes to stimulate her brain and helps speed up its healing process.

"Vilma Vitanza is a distinguished writer on the subject of the dynamics of the mind. In her deft and intimate book, she has given a riveting account of her experiences in Honduras and California. "Fumes and Fine Dust" is a compelling account of the circumstances that brought her to the United States, where she worked as a research associate in agriculture. After years of exposure to the chemicals, her brain (that had once been completely functional) began to deteriorate. Her strong, healthy body was breaking down as well, but she was able to overcome the downward spiral with effort, struggle and determination.

"To some extent, her experiences are similar to our own nature. That is why the book is worth a great deal more than the price, $2.99, even if only one sentence connects with a small part of your own nature. It is similar to the Paris Opera House with the high vaulted chambers of our mind, the scraps of unforgotten emotions, the curtain opens and closes, and doors in our mind that we dare not open. It should be made into a Musical Performance similar to Victor Hugo's "Les Miserables," says Amazon user Augustus on the book's online listing.

Fumes and Fine Dust: Working Under Chemical Assault: Neurological Effects
Author | Vilma Vitanza
Publisher | FriesenPress
Published Date | December 2, 2013
Genre | Self-Help/Psychology
ISBN-13 | 978-1460223888
Paperback Price | $ 15.99

About the Author

Vilma Vitanza was born in the Atlantic port of Tela, Honduras, in 1930. Finding all doors closed to her aspirations as a woman and divorced mother of three sons, she emigrated to the U.S.A. with the promise of a job, landing at San Francisco airport on the star-studded New Year's Eve of 1967.

tinyurl
is.gd
u.nu
clck.ru
ulvis.net
shrtco.de