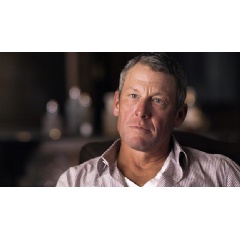 Lance, a two-part documentary about one of sport's most controversial figures, Lance Armstrong, drops on BBC iPlayer tomorrow and will be broadcast on BBC Two at a later date.
Acquired from ESPN, who earlier this year were responsible for Michael Jordan series The Last Dance, this documentary covers Armstrong's remarkable rise to the pinnacle of cycling and his rapid fall from grace.
The two-part documentary from Emmy award-winning filmmaker Marina Zenovich features candid interviews with Armstrong, his family and former teammates about his battle with testicular cancer, Tour de France victories, which he was later stripped of, and dramatic downfall after being exposed in a widespread doping scandal. The film is set against the backdrop of competitive cycling and tracks the widespread corruption of the sport, caused by the pervasive use of performance enhancing drugs.
Lance joins a wide selection of extraordinary sports documentaries currently available to watch on iPlayer, including the Oscar-winning films When We Were Kings, about the famous 'Rumble In The Jungle' 1974 fight between Muhammad Ali and George Foreman, and OJ: Made in America, about the famous football and movie star's dramatic trial for the murder of his ex-wife. Other sports documentaries available to watch on iPlayer include The Two Escobars, Olympic Dreams Of Russian Gold: Over the Limit, Climbing Blind, The Edge, The Australian Dream, Afghan Cricket Club: Out Of The Ashes, Being Evel Knievel, Any One Of Us, The Eagle Huntress, The Toughest Horse Race in the World: Palio, and Maiden: War On The Waves.
Controller of BBC iPlayer, Dan McGolpin, says: "As the Tour de France comes to a close, BBC iPlayer is dropping this extraordinary documentary series about the race's most famous competitor, with his own perspective and that of many others close to what really happened during the scandal that saw him stripped of his seven victories. Lance joins a first-class selection of gripping sports stories on BBC iPlayer with recent must-see additions including When We Were Kings, The Two Escobars and Afghan Cricket Club – Out of the Ashes."
Lance is the latest addition to iPlayer, with other new box sets including Battlestar Galactica, Heroes, Good Trouble and Fort Salem.
RB
Update Friday 18 September: The press release was updated to reflect that Lance Armstrong was stripped of his Tour de France victories.
tinyurl
is.gd
clck.ru
ulvis.net
shrtco.de